Restaurant is what serves us both our need and luxury. With the pace of digitalization, restaurant business has vibrantly been depending on technology and will do so more in near future. Websites & app- based technologies are the main platform what has taken the restaurants online. I have gathered 20 Best HTML Restaurant Website Template 2019 for those who are going to launch your restaurant websites and who are interested to know more about this promising industry.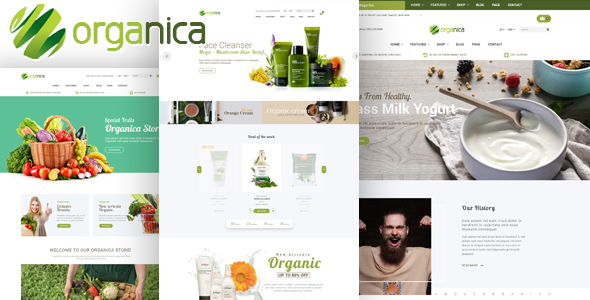 Keeping pace with the current shout of having organic food, I have placed 'Organica' HTML template. Organica is a clean design of HTML template to deal with fresh and Organic Foods, Nutritious Drinks and Foods service. 
However, Organica HTML template includes 6+ Premade Shop Pages and 17 HTML Pages. It is powered with Bootstrap4 and CSS3. This HTML5 template is not lagging behind in perspective of design quality. The white background page layouts has proper placement of products in an excellent manner.  
In addition, Organica HTML template has Well Documentation, Cross-Browser Optimization, Google Font, CSS Files, Amazing Mega Menu, Material Icon Font and many more exclusive things. You can try this HTML template to start your online shop business.
To me Organica is the most creative Bootstrap template among these 20 Best HTML Restaurant Website Templates 2019Restaurant Website Template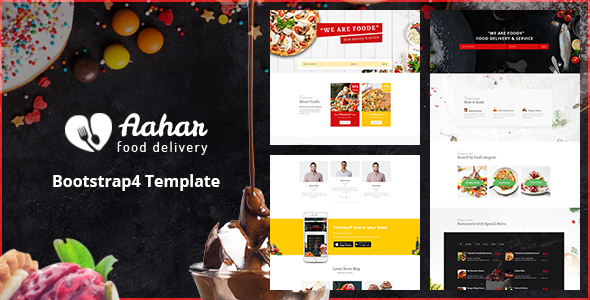 Aahar – Food Delivery Service Bootstrap4 Template is a stunning HTML template, designed to operate Food Delivery Service, Banquet Halls, Service Owners and the Catering Companies who cater to the food niche. 
Aahar responsive HTML template has Creative & user-friendly design. Once you visit any of the homepages of this item, you will notice the Menu, Search Bar, Cart and other necessary options, arranged in a way that you won't have to toil at all to find those.  
However, Aahar is affluent with other modern features of a Restaurant Website Template. It has HTML5, CSS3, Wide & Box Layout, Shortcodes Ready, 4 Homepages, 19+ HTML Pages, 6+ Blog Pages, Amazing Mega Menu, Cross-Browser Optimization, Google Font and Font Awesome. I think Aahar is a powerful tool to start a yielding business.
Success of a food shop depends on the taste and quality of the foods that the shop serves. What if you can't bring any customer to the shop in the first stage? How would you carry some eaters to your shop to relish the taste? Of course you have to attract the customers with the visual outfit of your shop or using the digitized media. 
To go online with your food shop, you can use Basmoti, a stunning Restaurant Website Template. Undoubtedly you can use Basmoti website template for setting up Restaurant, Coffee Shop, Ethnic, Fine Dining, Food Shop, Fast Food, Casual Dining, Fast Casual, Premium Casual, Barbecue Shop and so on. 
Basmoti Bootstrap4 template is a ready one with creative & eye-catching design. It has 3 Unique Homepages, 2 Gallery Style, 12+ HTML Pages, 3 Blog Pages etc. Besides, Basmoti is adorned with CSS3, Dynamic Contact Form, Free Font, W3 Validate Markup and many more. There are options to showcase Food Categories, Favorite Dishes, Order-Placing Options. Basmoti is a full and complete template indeed.Restaurant Website Template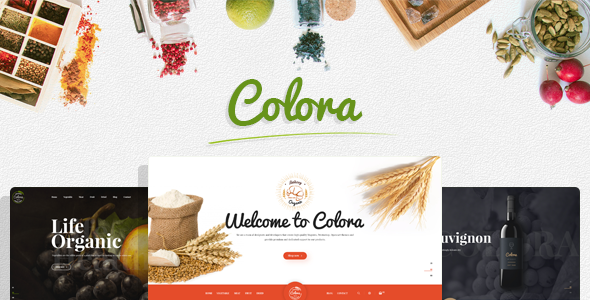 Colora is a stunning HTML template specially designed for Restaurant and food delivery service, Café, Organic Food Service and Food Blog. This HTML5 and Bootstrap4 template has responsive and pixel-perfect design that will attract your audience's attention easily.  
However, this astounding Restaurant Website Template offers Clean Markup, Speed Optimization, Font Awesome Icon & Ionicon & Simple Line Icons, Google Font, W3c Validation, Dynamic Contact Form, MailChimp Subscription Form, Instafeed, MailChimp and Newsletter Popup. 
Consequently, Colora will be able to stand as a successful tool to serve the clients with Organic Food, Healthy Drinks and other organic products for fairness and fairness products ingredients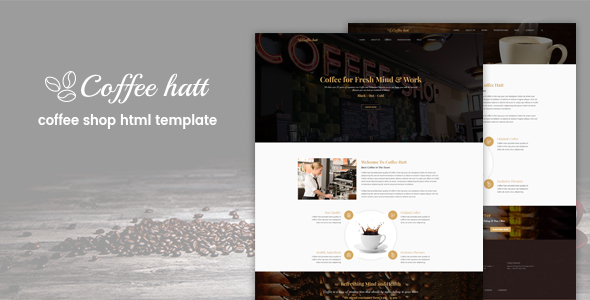 To talk about restaurants website design responsiveness is a burning issue. Interestingly, Coffee Hut is a hundred percent responsive HTML restaurant website template in addition with having exclusive design quality. The point of difference of this template with the other food recipes website templates is the standard design quality.  
Moreover, Coffee Hut is competitive to the other available items in perspective of other attributes. Coffee Hut has valid HTML5 & CSS3. In addition, this Bootstrap based template has Cross-Browser optimization. 
Besides, Coffee Hut has used Google Font, Well Documentation, Responsive Layouts and neat and clean design. In order to provide the best service to the clients, Coffee Hutt – Coffee Shop HTML Template would be a nice platform for you.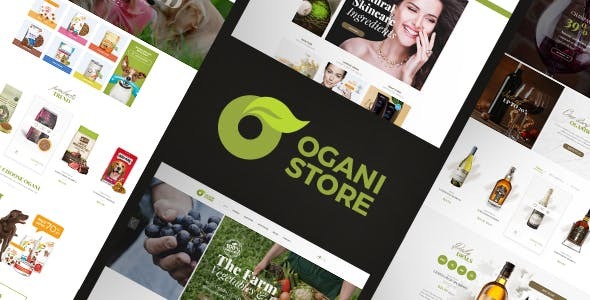 It's unfair that I just would bring the fast food and coffee shop items to this blog. Rather, I have focused on the variations and among the bulk of categories, organic food items is a top choice in the current world. 
Ogani HTML Restaurant Website Template is an incredible online home for serving Food Items, Organic Foods, Snacks and Food Ingredients. Ogani carries varieties of layouts in 37 HTML Pages including multiple blog pages, Contact Pages, Product Variation Pages and Shop Pages.  
In addition, Ogani bootstrap4 template has 2000+ Icon Font, SASS Support, Dynamic Mailchimp, Google Font, Ajax Contact Form, W3 Validate Markup and Well Documentation.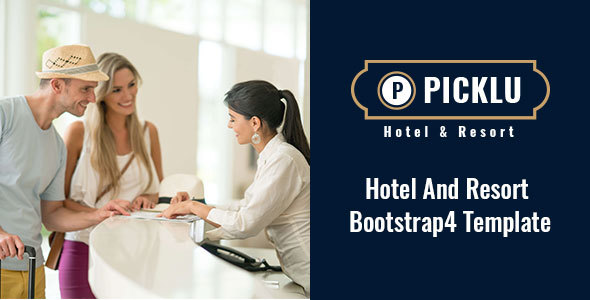 Of course, an item for duel services like Hotel and Restaurant HTML template is necessary in this blog. Picklu is such a marvelous HTML template for online service of Hotel, Motel and Restaurant.  
Picklu responsive HTML template brings 2 unique Homepages along with 13+ HTML Pages. What this template doesn't have? Picklu has Cross-Browser Compatibility, HTML5, CSS3, User Friendly Code, Clean Markup, Bootstrap4, Google Font, Fast Page Loading, Mailchimp Subscription, W3C Validation, Dynamic Contact Form, Font Awesome and many more important particles.  
Moreover, if you visit the homepages, you will see the design and menu arranged in a great visual outfit. Picklu would be a nice choice for you, if you want to serve your clients with best functionalities in the best presentation.
Dawat is a modern, clean and professional HTML website template for restaurant and café. Dawat is perfectly developed for RESTAURANT, Catering, Bakery, Bar, Cafe, food business and for personal chef portfolio.
The reason why I have taken Dawat in this list of 20 Best HTML Restaurant Website Templates 2019 is it looks mind soothing and brings top functionalities.  
In addition with the creative design Dawat has 8 Homepage variation and 12 other pages, designed with modern concept. If you visit the homepages I guarantee your utter surprise to see the creative visual effects. 
However, Dawat responsive template is powered with Bootstrap and CSS. It carries Google Font, Very Smooth Transition Effect, Well Commented Code, W3C Valid Code and Cross-Browser compatibility as the core attribute of this template.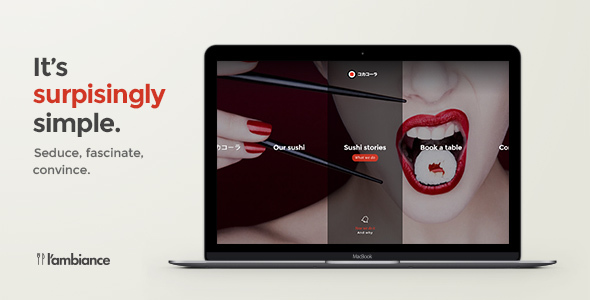 Restaurant L'ambiance is a simple and easy-to-use HTML restaurant website template having versatile User Experience(UI). It has dynamic contact form that lets the users communicate with the clients.  
Besides, Restaurant L'ambiance has super-responsive layouts that are perfectly optimized for mobile screens. For restaurant purpose most of the visitors used to browse through mobile phone. So, you don't have any other way than focusing on responsiveness.  
I cannot resist me depicting the exquisite design of this amazing restaurant website template.
Cafe & Restaurant Template
Owl Restaurant is a perfect and professional HTML template for Café, Bakery, Restaurant or Chef Portfolio. This is a Bootstrap-based template is built with CSS3 & HTML5.  
Owl responsive Restaurant Website Template has Clean Code that is extremely suitable for further customization and development.  
However, Owl Restaurant HTML template has 5 Exclusive Homepage Design, 2 Blog Pages, 2 Event Pages and many more. Such kind of user friendly website helps you promote and grow your business in short time. The color combination of the layouts of this template is excellent. You can keep trust on this creatively designed Bootstrap4 template.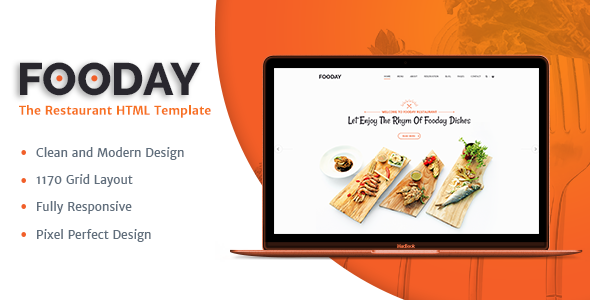 Fooday is a feature-focused and innovative Restaurant website template. Foody has unique display of each section with Parallax Effect & Smooth Animation. 
Fooday responsive template has 4 Homepages and multiple inner pages that are truly effective for a restaurant website. Here you can do an interesting task like- you can transfer any content from each single page can be transferred to the others very easily. 
Fooday, modern design of HTML template, has Responsive Layouts, easy Customization, Clean Code, Blog Pages and Touch Enabled Sliders and Font Awesome. 
Tasty is an easy, clean and beautiful HTML template. Tasty website template for restaurant business is perfect for modern restaurant.  
What makes me interested to this template is the simplicity that even attracts people. It is a single page, neat and clean, easy to use HTML template. In addition, the design of this template is fully retina ready that retains the resolution in any kind of high quality screen. You can go for this gorgeous inside the simple HTML template.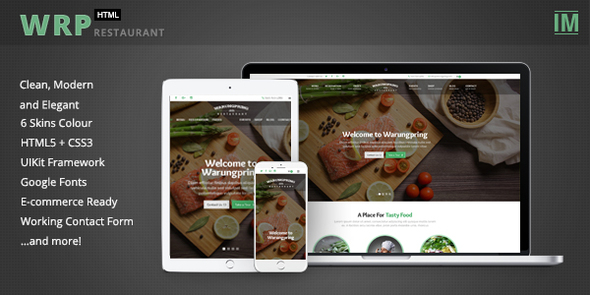 Warungpring is a neat and clean HTML template designed with both the modern and classical taste. Warungpring is specialized for making websites of restaurant, winery business, cafe, and for events and E-commerce as well.  
Warungpring has used HTML5, CSS3 and UI Kit Framework for flexibility and agility. Moeover, it has Sticky menu, Responsive Layout, Parallax Effect, Retina Ready, Ajax Contact Form, Google Font, Working Contact Form and Well Documentation. You can keep trust on this smart template to build your online business up.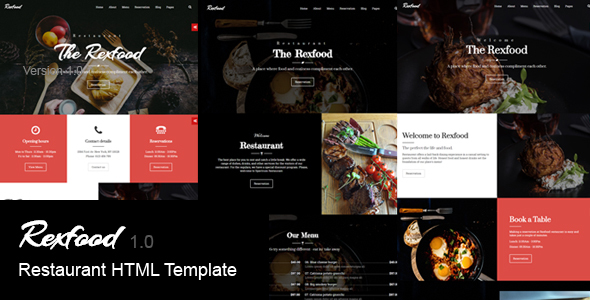 Rexfood Bootstrap4 template, designed with HTML5 & CSS3 is a stunning template for Restaurant and Bar website.  
Rexfood is a Responsive and Cross-Browser compatible website template. It remains super-smooth in various kinds of devices and browsers. However, this template has Reservation & Blog pages for better user experience. Top of the other qualities, elegant look and simplicity are the best thing your clients will enjoy if you set it up as your restaurant website.  
Don't be tensed about the other attributes like Google Font, Google Map, Font Awesome, W3C Validation and Documentation. In addition, Rexford website design for restaurant business has top quality code inside. You will be able to customize this template very easily.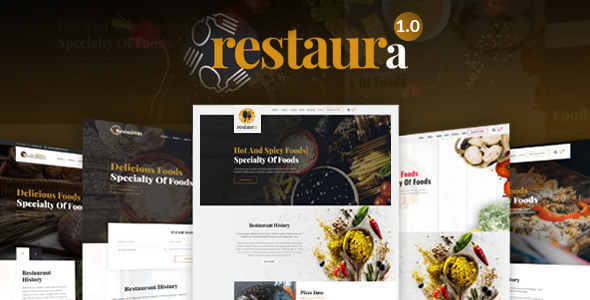 Restaura – Restaurant, Food & Cafe HTML Template is another splendid website template for Restaurant, Café, Bakery, Catering, Bar or anyone working in Food Industry.  
Restaura food and café website template is fully responsive and has Pixel Perfect Design. It has Cross-Browser support too.  
Moreover, Restaura has excellent CSS3, valid W3C Markup, unlimited Color Variation, LESS & Gulp File, Font Awesome and many more. 
In addition, the author of this template is committed to provide lifetime support and free updates to the clients.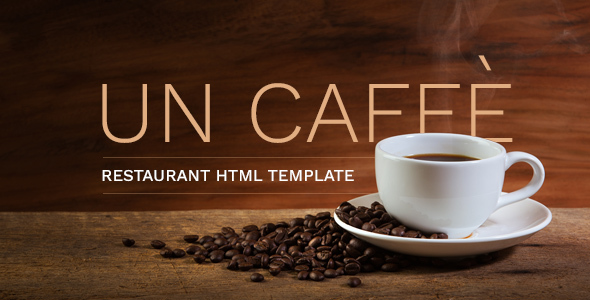 The demand of coffee houses is on the rise. Keeping that in mind, I have included this exclusive item- Un Caffe – Coffeehouse and Restaurant HTML Template- here in this list.  
Un Caffe is a perfect foundation for coffee shop, restaurant, bar or any other food and beverage business website. This lightweight template is built with Bootstrap, CSS and HTML update versions.  
However, the author of this template claims that this template has been tested by expert panel, working in restaurant industry for long. Go on with this template; no worry!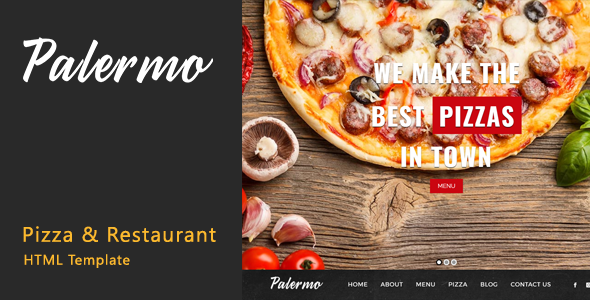 Palermo is a minimal design of HTML template crafted creatively. It is a precise, clean and catchy template that will behoove best with your online Pizza shop and online restaurant business.  
Palermo contains the updated features like- Google Map, Advanced Framework, HTML5 & CSS3, Responsive Design, Working Contact Form, Well Commented Files, Extensive Documentation etc.  
In addition, Palermo has Cross-Browser Compatibility that enables the website to run smoothly in varieties browser.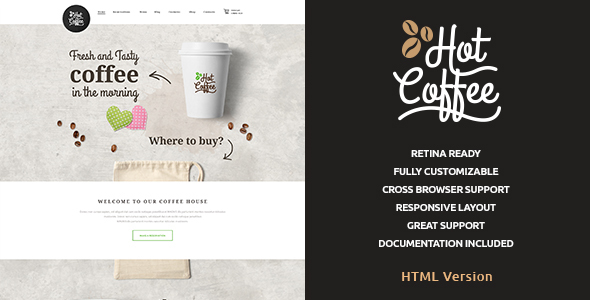 Hot Coffee is a trendy and stylish HTML template. This superb template would be a perfect online presentation of your Café, Restaurant, Bar, Bakery, Tea House etc. 
The creative design of this template will surely attract the clients most. Visitors will surely enjoy the creative and smooth animation. Hot Coffee brings multiple pre-made pages, valid HTML Pages, Ultra Responsive Layout, Retina Ready, Easy Customization, and Cross- Browser Compatibility. 
In addition, Hot Coffee has been developed using easy code that has made it effectively SEO optimized. You can keep trust on this template to grow your online Coffee Shop business.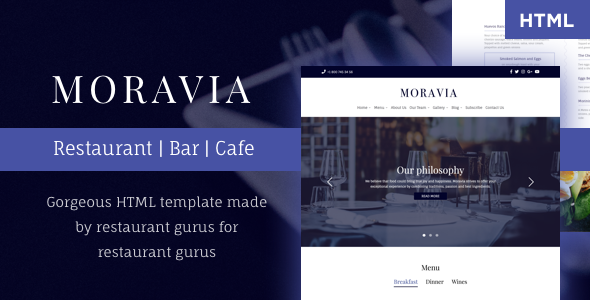 Moravia is a professional HTML template, which is a perfect solution for building modern restaurant and café website template. 
The best thing about this template is the author consultation with the experienced people who are dealing with restaurant industry. All the questions and issues that may arise while using this template has been anticipated wisely in time of designing and developing this HTML template.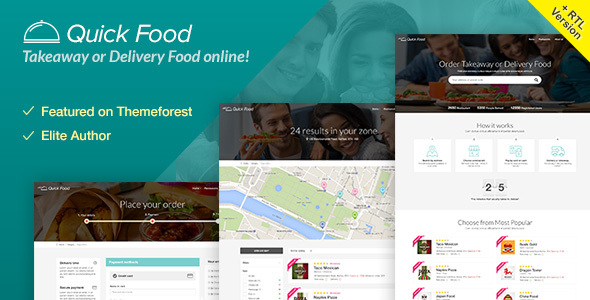 To me, Quickfood is another glowing HTML template worth putting here in the best listing blog. You can use this template for food delivery purpose. Another reason to extract this item in this list is food delivery service is a potentially growing industry all over the world. 
However, Quickfood is designed with all modern attributes as well as smart design ideas. It has HTML5, Bootstrap and CSS3 Code. 
Quickfood brings 8 Unique Homepages and a total of 30+ HTML pages. Besides, it has 2300 Fantastic Font Icons and 14 layered PSD. Furthermore, Quickfood has Ajax Cart, Working PHP, Google Map, Google Web Font, Magnific Popup and coming soon templates.  
RTL Versions and Admin Sections have been used recently to this item.
Hope you have got a detailed idea on the best HTML templates for restaurant and food business. So, you can choose the one that is more suitable to your purpose. From my part, I can say, I have tried to maintain the chronology in this 20 Best HTML Restaurant Website Templates 2019 from first to the last, depending on the quality.
You can explore more Bootstrap HTML template on Entertainment.