Free or Premium WordPress Themes? If you want your WordPress site to stand out, you need a design that helps you stand out.
Although it's important to have a web design that is different than most other blogs in your niche, you need a theme that you can customize on your own without any programming knowledge. But sadly, unless you are good at HTML/CSS coding WordPress is limited in terms of design customization.
This is where Elementor comes to the rescue. It allows you to easily create custom layouts for your WordPress pages with a drag & drop interface. You can use any of their pre-made templates as a starting point and then edit it using a simple point and click user interface.
In this article you will find:
Free vs Premium Elementor WordPress themes
Checklist for creating a website.
An ultimate list of Elementor WordPress themes to be trusted
Conclusion
So…do you need to open your wallet and pay for Premium Elementor WordPress themes? Or will you be just as happy using the free version at WordPress.org? Undoubtedly, the free themes are the winners in the search ranking, but there's also that intriguing Premium WordPress themes that add on a bunch of new functionality.
How to choose a proper WordPress theme? There are tens of thousands of themes out there…how do you pick just one?
Free WordPress Themes vs Paid WordPress Themes: is there a difference?
And my answer is there's no universal difference between free themes vs paid themes. You'll find high-quality free themes and low-quality premium themes (and vice versa, of course).
15 Questions to ask before choosing a WordPress Theme:
Does it work well on all devices? (check out this service: Responsive Design Checker)
Does it load quickly?
Are all the little design elements just right?
Does it work well in all web browsers?
Is it SEO-friendly?
Is it translation-ready (if you're creating a multilingual/localized site)?
Is it accessibility-ready?
Does it have the plugin integrations you need?
Does it use the WordPress customizer?
Does it have good reviews?
Does the developer regularly update the theme?
Does the developer have a good reputation?
Will you get good support?
Is there quality documentation for self-help?
Is There a good user community?
If you want to try Free WordPress themes, check out these blogs:
WPBeginner
,
CodeInWP
,
Speckyboy
, and free Elementor WordPress themes from CrocoBlock.
free Elementor WordPress themes
on hand. Most of these themes include astonishing features that will certainly blow your mind. And if you want to see a theme that meets all 15 criterias above and to save you the trouble of wasting hours of your time going through Elementor themes, I encourage you to check my list of the best of the best Premium Elementor themes that work like a Swiss watch.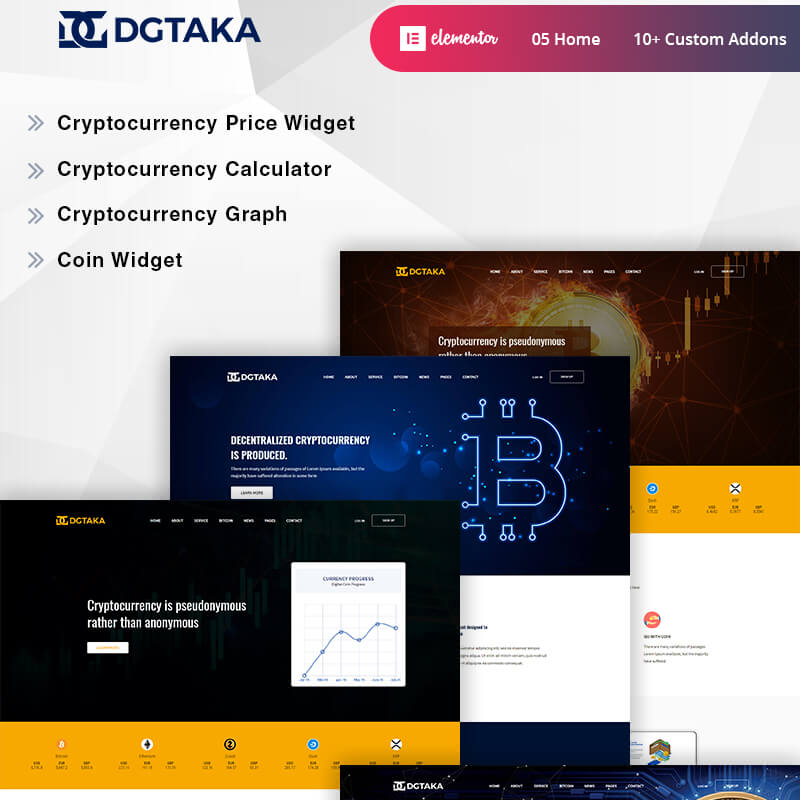 Dgtaka – CryptoCurrency WordPress Theme is a best WordPress theme for apps, SaaS, Bitcoin, ICO's and Cryptocurrency. It is a premium WordPress theme, designed specifically for cryptocurrency exchanges, ICOs, digital wallets and bitcoin companies and businesses with a specific focus on cryptocurrency, lead generation, product and service showcasing as well as all the important features you need to make your business successful. With Dgtaka, you can build your whole site in the frontend using the Elementor live page builder without any need of backend editing. Dgtaka offers many modular templates from which you get unlimited design options.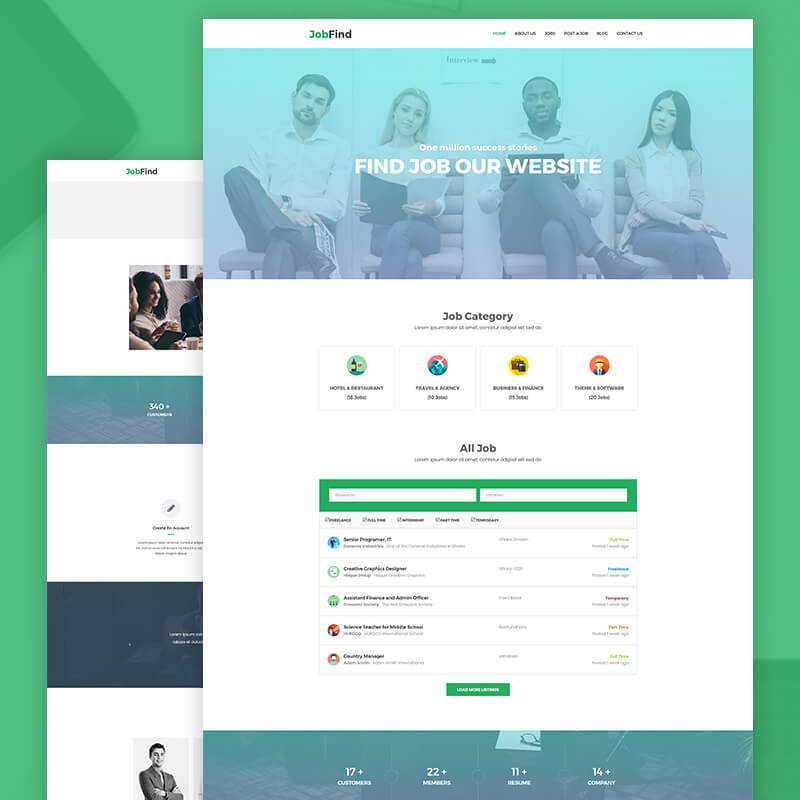 JobFind has been designed to make it as easy as possible to build a job board portal website with WordPress. However, this theme can also be set up to function as a personal resume or company profile website.
To make using your website a straightforward task for your visitors, JobFind includes front end submission forms where users can register, login, and create their employee or employer profiles, without having to switch to the WordPress backend to add content. The theme also comes with a selection of useful page templates such as the contact us, about, and pricing pages, to save you the trouble of designing these essential pages from scratch.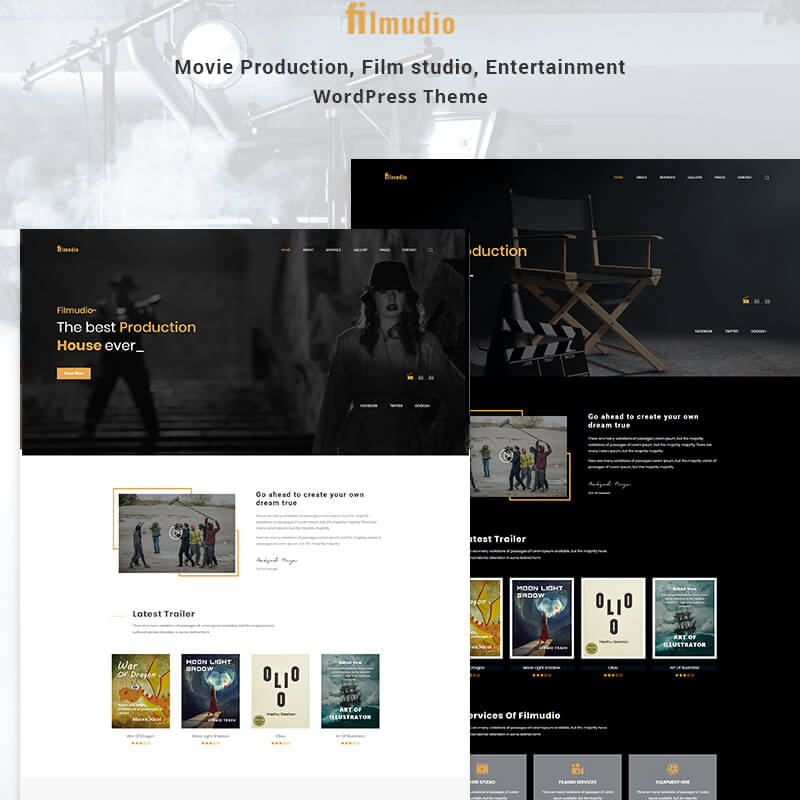 Filmudio is a highly customizable WordPress theme. It was made by an exceptionally talented professional for making modern, elegant and interactive websites. Filmudio is a multi-purpose WordPress theme; you can use it to make websites without the need to know to the program. It is extremely user-friendly and is well documented. So now you can make your perfect movie production website, film studio website, film agency website, film campaign website, actor/actress portfolio website, etc.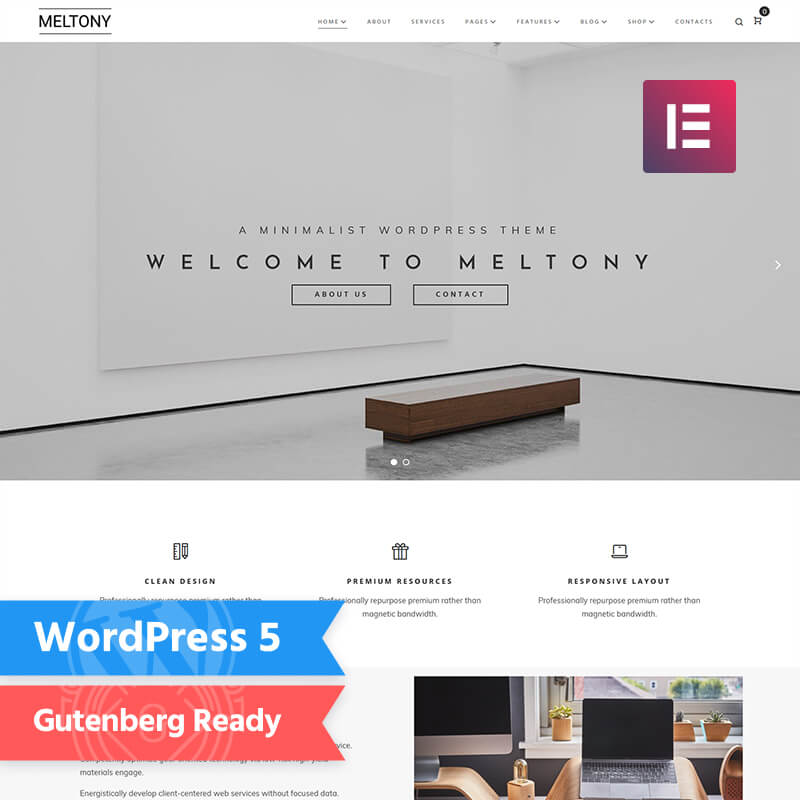 Meltony WordPress theme includes a number of customizable layouts and customization options that let you build a multi-functional blog or news portal that will match any topic-specific web project. It contains several highly customizable blog layout variations that you can modify using WordPress Live Customizer. The theme also features full compatibility with Elementor page builder and a series of popular WordPress plugins. A mobile-friendly layout of the theme is ready to be enhanced with any type of content, both written and visual. It also includes fully adaptive images that will look stunning on all devices.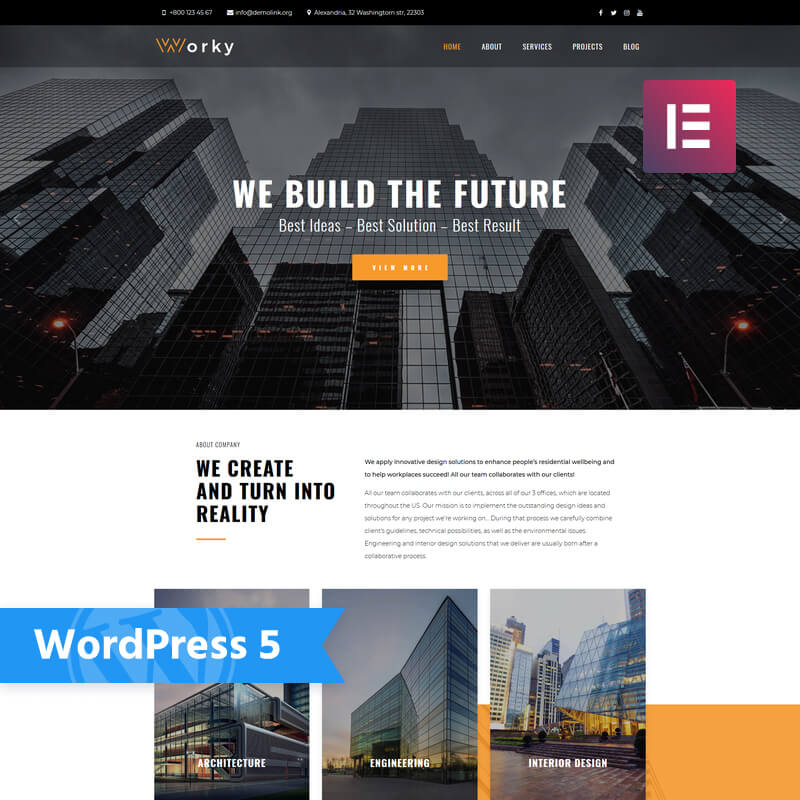 This WordPress theme for architects and architecture firms has a responsive layout, a drag and drop page builder. This theme is suitable for Interior design, architect design, furniture, and creative agencies, corporate websites, personal blogs, product-oriented sites and may other various site types. Mobile ready and fully responsive regardless of what device your visitors are the usage of to access your website.
Worky WordPress theme provides pre-designed pages, such as Home, About, Services, Projects, Blog, where you will be able to add relevant information about your company, provided serviced, successful projects, interesting blog posts, etc. Moreover, you will customize your website according to your wishes and taste using the powerful Jet plugins bundle for Elementor page builder.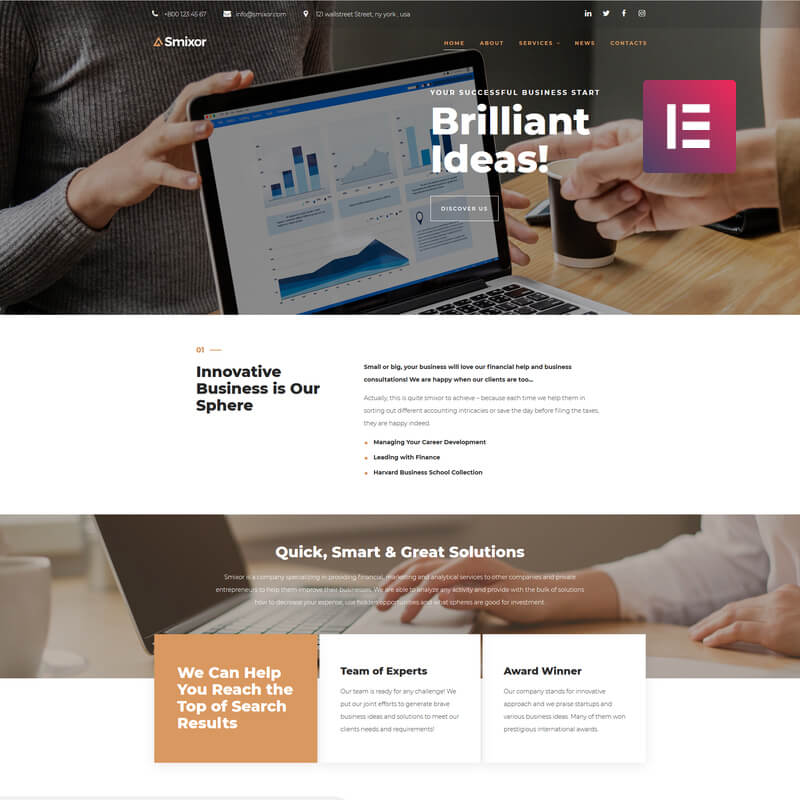 The Smixor Business WordPress theme is a great professional option for any freelancer, startup, agency or other business. It is fully responsive, super light and well SEO optimized with a modern clean design perfect for any modern agent portfolio or startup project. Use built-in options for columns, sidebars, effects, color options and of course page builder support.
Above all, because the theme was designed to work great with Elementor, any number of awesome layouts is possible. This theme is compatible with the WooCommerce plugin. So you can easily start your online store and sell products online without any hassle. The Smixor theme also comes with some great features like Google Fonts, Live Customizer, products carousel widget, fully functional gallery, mega menu, and much more.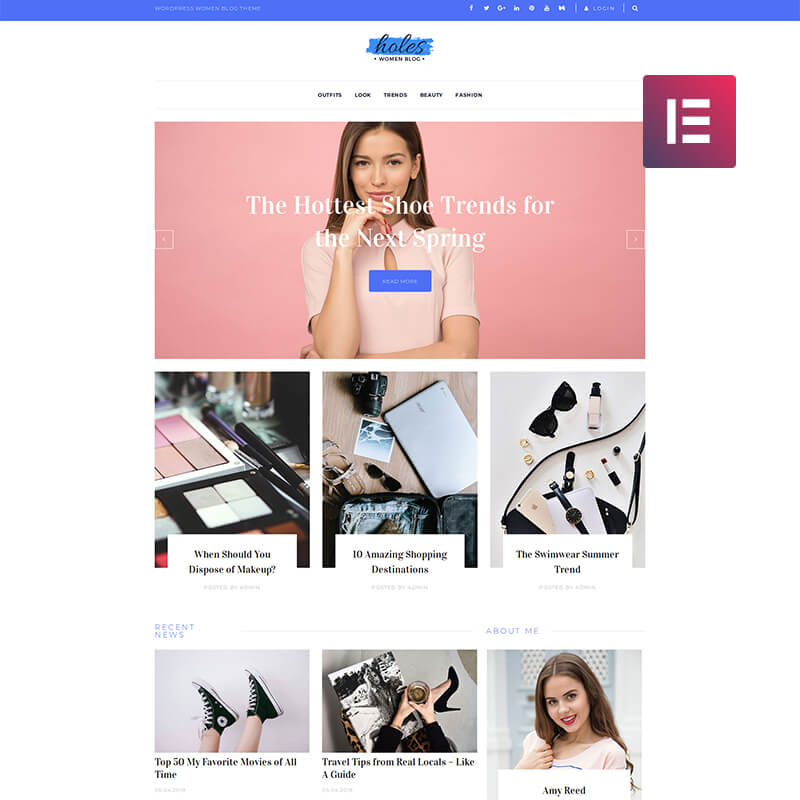 The Holes Women Blog Multipurpose Classic Elementor WordPress Theme is an elegant theme perfect for female entrepreneurs who want to grow their audience and sell out their programs or services. The theme offers a stunning, large header area image with a call to action, followed by three featured widgets so you can start funneling website visitors to where you want them to go. You'll also find an elegant blog page layout so you can share more information about your services as well as gallery and portfolio pages to showcase your work and skills.
The theme can easily be customized to match your brand and you can even start selling digital products thanks to WooCommerce integration. The Holes is fully responsive, includes a newsletter subscription box that works with MailChimp and ConvertKit, and comes with custom social media icons. Additionally, this theme has been SEO-optimized and translation-ready.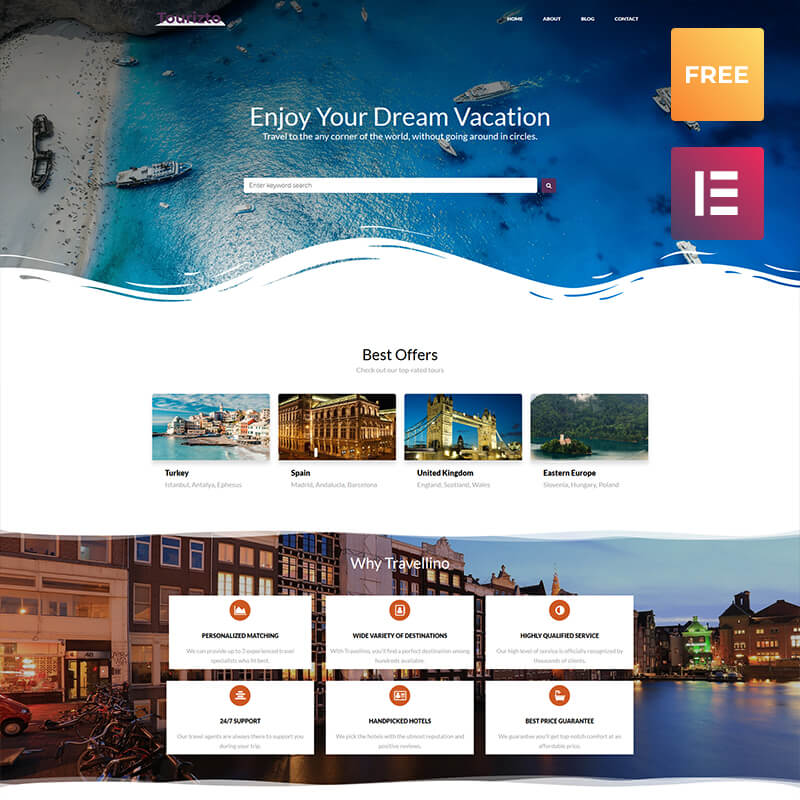 Need something eye-catching for a travel blog? Well, then I got you covered. Tourizto lite is easy to install and to customize a website template with many useful features. It is well documented and its documentation provides you with all the information about this theme. It is a simple and free option for any personal website. All you need is to edit the content. Additionally, if you want to advertise yourself, you can use the included social options.
By the way, I'll tell you a secret that I'm addicted to traveling. So although Tourizto lite is a universal and stylish template, I can't stop myself and not to share with you other wordpress themes for travel agencies and blogs. Enjoy!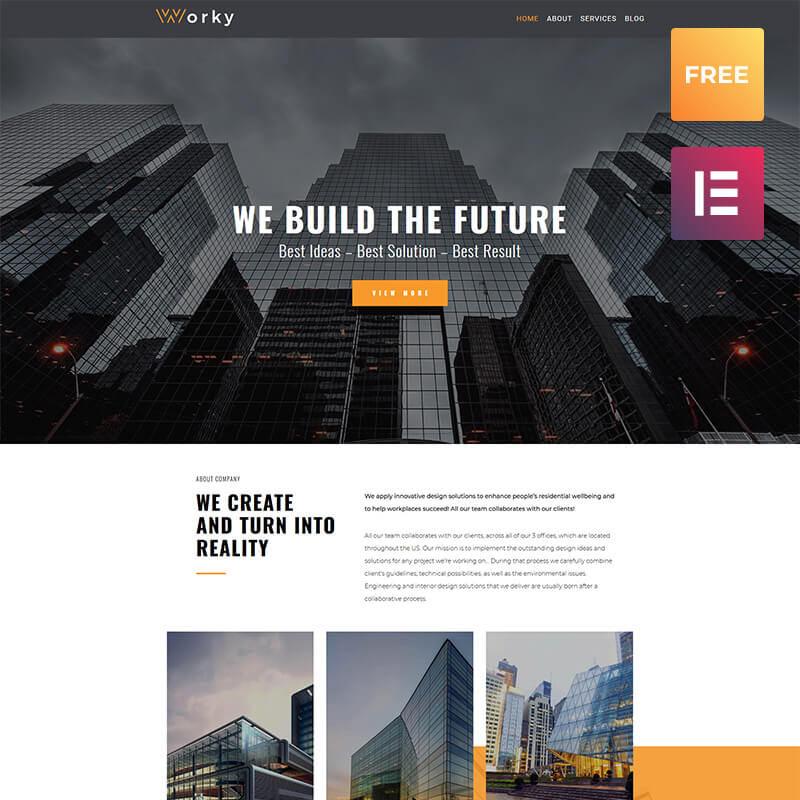 Multipurpose themes often claim they can cater to all niches – after all, it's an appealing selling point. However, Worky Lite WordPress theme takes a different tack. Rather than appeal to every niche, this multipurpose theme narrows in on helping creatives – including architects – to produce stunning websites, with no coding skills required.
Worky Lite offers a custom drag-and-drop page builder, over 20 demo templates, and plenty of customization options. As for the portfolio section, it will certainly do your work justice. The grid display is clean and prominent, and each individual page offers an almost full-screen header, along with a sleek design as you scroll through. The portfolio section stands tall among other themes and could seal the deal for many.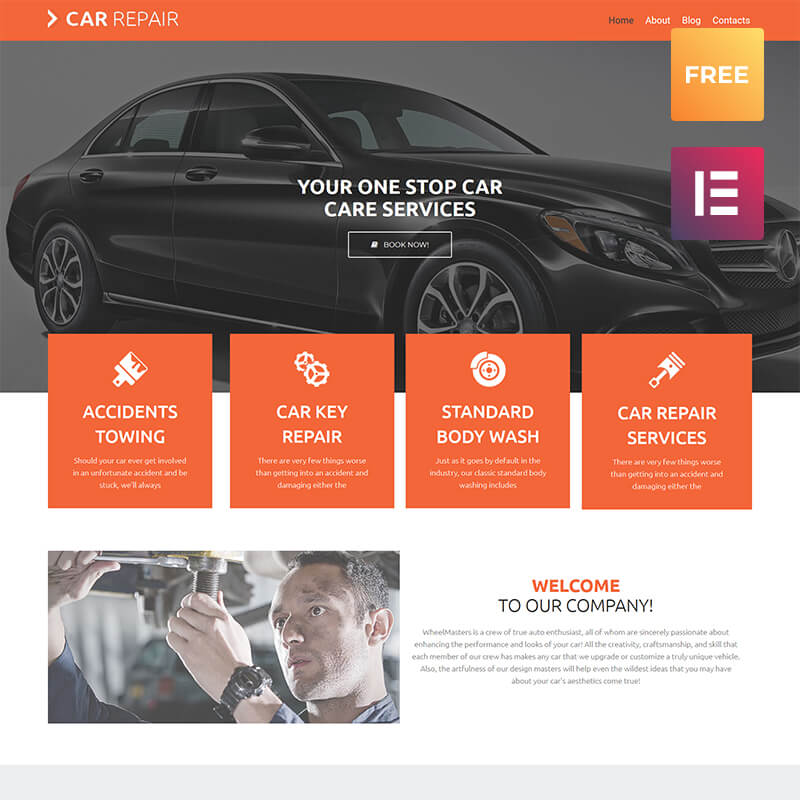 The Car Repair Lite WordPress theme is specially constructed with the deliberate purpose of completely satisfying the needs of any sort of auto service provider website, ranging from car repair shops, car washes and garages to auto painting, brakes servicing, car rental, vehicular inspections, and all sorts of small business services, including handymen of all kinds.
This WordPress theme is uniquely built for ease of use and professionalism: dozens of combinations of included homepages, templates, headers and sidebars are available, with tons of preconfigured options with a purpose-oriented design philosophy, including opening hours, Free Consultation/Appointment forms, case results, FAQs, meet the team pages, and much more.
Elementor is one of the most popular page builders for WordPress (if not the most popular). It's fast, intuitive, and packed with lots of useful features. If you're looking to 'level up' the way you create content on your website, this plugin is a great way to start.
And no matter which theme you choose, I wish you the best of luck with your new site!